Some time before LEDApple's comeback with the single "With The Wind", kpopNOW! had a chat with the group about their new work, coming to Brazil, how the idea of creating the "Music Note" came up and even about developing another project like this. Pretty interesting, huh? Unfortunately, we ended taking some time to publish it since: life is not easy for anyone and a lot has happened.
What matters now is that the interview is here exclusively for the kpopNOW! readers, so enjoy!
1- When did you guys decide you wanted to be musicians?
Four of the members had a dream to pursue music early on in their lives. Actually becoming a professional musician is like a dream come true to LEDApple. Though, Hanbyul had a great interest in singing since he was 13, he didn't ever consider singing as a career. His academic priorities always came first until he graduated secondary school. It was then that he really thought about singing for the rest of his life.
2- How is it to be a band among all those k-pop groups?
As most K-pop groups are dance idols, being a different type of group has always been one of our prides. It is true that the band industry in Korea is not as popular as other genres but Led apple take pride in themselves for being a band.
3- How did you come up with the idea of creating the "Music Note"?
Hanbyul had thoughts about covering songs from all around the world and uploading it onto Youtube for various reasons such as to gain popularity and to practice. However he had never really gotten into the idea in detail. Upon sharing the idea with the agency's Chairman, both thought LEDApple had nothing to lose from it and the decision to put Music Note in practice was made.
4- With the end of "Music Note", did you notice if the project helped you somehow in your musical development? If you could choose one of the covers as your favorite, which one you would pick?
It definitely helped musically. We matured musically and we feel it. Hanbyul has improved so much vocally and LEDApple really enjoy re-arranging other songs. We all think that Bruno Mars' "Talking to the Moon" was an excellent cover and it was also filmed by the members themselves. It is a Music Note that we can't forget.
5- Do you think about maybe creating another project like this one?
Defintely. Maybe in the future LEDApple could start another Music Note 2 or something similar. It is definitely something the group is thinking about.
6- Did something happen while you were recording the new album that you can say it's marked in your memory?
Recording our latest title "With The Wind" would have definitely been the longest and most difficult recording so far. It was recorded over 2 days for maybe 12 hours. Because the pitch of the song is so high, it took Hanbyul a long time to practice for the recording. Every time a recording session ended, he would lose his voice.
7- Is there a concept that you would like to try in the future?
We would like to try a whole variety of concepts but one concept that all the members really like and would like to go back to is "Time Is Up". A lot of our fans really liked the that concept as well.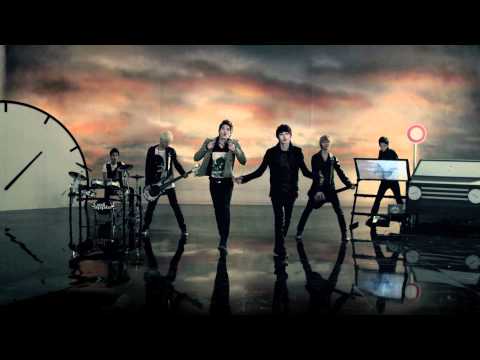 8- What is your biggest musical influence?
Led Zeppelin has definitely been a great influence on all the members as well as X-Japan and the Korean rock band, Boohwal. Hanbyul has had many musical influences since he was young, growing up listening to Eminem, Michael Jackson, Justin Timberlake, Black Eyed Peas. Recently his greatest influence has been Bruno Mars.
9- Do you guys wish to go on tour to somewhere specifically in the world?
Traveling the whole world is one of Led apple's gols. To visit all the countries where our fans are. Brazil is a place that all the members are extremely curious about.
10- Who do you think is the funniest member of the group?
On official appearances, the member who has the most to say and is the funniest member would have to be Hanbyul. He is a very good talker and a lot of people like his sense of humour. As well as that, he sometimes seems to be out of his mind.
11- What do you do in your free time?
Listen to music. Watch movies. Play online games. Meet friends. Sleep as much as possible. It is difficult to name all of them.
12- Did you know that you had fans in Brazil?
Of course. We receive a lot of messages from our Brazilian and South American fans through SNS. We are extremely thankful that they support us from so far away and we would really like to perform for our Brazilian fans in the future.
13- Could you please send a message to all your brazilian fans?
To all our Brazilian fans, we are extremely grateful for all the love and support you have sent us. We are very eager to travel over to Brazil so that you can see us perform. Please keep supporting Led apple and hopefully we can perform for you in the near future. Thank you so much. We love you Brazil.